2018 PLANT LIST
This year can pre-order custom full flats at a very discounted rate. Plants will be sold in three inch soil blocks in flats of 24 plants (each flat can contain a combination of several different plants) which can be selected from the plant list below. You may choose any combination of 24 plants to fill the flat, we are selling full flats only. Price per flat is $45, the order deadline is Sunday, May 13th. Pick-up days will be Sunday May 27th and Sunday June 3rd between 9am and 4pm.
Please email jyotidhara@hotmail.com
Include in your email:
1. Your name
2. Phone number
3. Plant list per flat (a full flat is 24 plants and each flat can contain any combination of different plants), we are selling full flats only. Indicate which plant and how many of each.
HERBS
Angelica
Anise hyssop
Arnica, Meadow
Basil, Kivibumbasi Lime
Basil, Lemon
Basil, Sweet
Basil, Thai
Bergamont, Lemon
Bergamont, Wild
Blessed thistle
Borage
Calendula
Catnip
Chamomile, Dyers
Chamomile, German
Chamomile, Roman
Cilantro
Codonopsis
Comfrey
Cordao
Culver's Root
Dang-gui
Dill
Dyers coreopsis
Echinacea
Elecampane
Euacalyptus, blue gum
Fennel
Feverfew
Good King Henry
Greek Mullein
Horehound
Hyssop
Indigo, Japanese
Lavender
Lemon Balm
Lovage
Madder
Maral Root
Marshmallow
Milk Thistle
Mint, Mountain
Mint, Yellow Dotted
Moldavian Balm
Motherwort
Nettle
Nigella, Black Seed
Oregano
Parsley
Peppermint
Pluerisy Root
Poppy, california
Rhodiola
Rosemary
Rue
Sage, Clary
Sage, Garden
Sagebrush
Savory, winter
Skullcap, Baical
Spearmint
Spikenard
Spilanthes
St Johns wort
Sweet Annie
Tansy
Tarragon, Mexican
Tobacco, Hopi
Tulsi, Kapoor
Tulsi, Vana
Valerian
Vipers Bugloss
Weld
White Sage
Woad
Wood betony
Wormwood
FLOWERS
Ageratum, Dondo Blue
Alyssum
Amaranth, Globe
Aster, New Hybrids
Bachelors Button, Tall Mix
Bachelor's Buttons, Polka Dot Dwarf
Balsam
Bidens, Bur Marigold
Black Eyed Susan Vine
Blazing Stars
Bloodflower
Campanula, Olympica
Cardinal Climber
Catmint
Cleome
Columbine, European
Coreopsis, Dyers
Coreopsis, Tall Red
Coreopsis, Threadleaf
Cosmos, Picotee
Cosmos, Sensation
Daisy, Gloriosa
Daisy, Shasta
Delphinium, Connecticut Yankee
Dianthus, Clove Pink
Didiscus, Blue Lacy
Four O'Clock
Foxglove
Gaillardia, Burgundy
Gazania
Globe Amaranth
Heliotrope, Marine
Hollyhock, Black
Hollyhock, Indian Spring
Impatients, Paradise Mix
Jacobs Ladder, Blue Pearl
Larkspur, Blue Cloud
Larkspur, Giant Imperial
Lavatera, Mix
Lupines, Red Russel
Lupines, Russel Hybrids
Maltese Cross
Marigold, Crackerjack
Marigold, Mexican
Marigold, Signet, Lemon Gem
Marigold, Spanish Brocade
Marigolds, Signet, Red Gem
Marigolds, Signet, Tangerine Gem
Meadow Rue
Morning Glory
Mullien, Phonecian
Nasturtium, Climbing
Nasturtium, Empress of India
Nasturtium, Jewel Mix
Painted Tongue
Pansie, Old Fashioned Mix
Pansy, Brush Strokes
Petunia, Wave
Phlox, Drummondi
Poppy, Alpine
Poppy, Elka White Oilseed
Poppy, Flanders
Poppy, Flemish Antique
Poppy, Iceland
Poppy, Oriental
Poppy, Ziar Breadseed
Portulaca, Old Fashioned Moss Rose
Rudbeckia, Cherry Brandy
Rudbeckia, Goldsturm
Salvia, Tricolor
Scabiosa, Cut Brite Pincushion Flower
Schizanthus
Snapdragon, Rocket Mix
Statice
Stock
Sunflowers, Soraya
Sweet Pea, annual
Sweet William
Tithonia, Torch
Verbena, Florist
Wallflower
Zinnia, Benary's Giant Lime
Zinnia, Benary's Giant Wine
Zinnia, Jazzy Mix
VEGETABLES
Asparagus
Broccoli, Fiesta
Brussel Sprouts, Hestia
Cabbage, Copenhagen
Cabbage, Mammoth Red Rock
Caucasian Mountain Spinach
Cauliflower, Snow Crown
Celeriac, Brilliant
Celery, Utah Tall
Collards, Champion
Eggplant, Black Beauty
Eggplant, Ping Tung Long
Eggplant, Rosita
Fennel, Bulb
Good King Henry
Husk Cherry, Aunt Molly's
Kale, Lacinato
Kale, Red Russian
Kale, Vates
Kale, White Russian
Kholrabi, Winner
Leeks
Okra, Cajun Jewel
Onions, Clear Dawn
Onions, Red, Cabernet
Parsley, Italian Flat Leaved
Pepper, Cayenne
Pepper, Aji Chinchi Amarillo
Pepper, Ancho Poblano
Pepper, Bangles Blend
Pepper, California Wonder
Pepper, Chiltepin
Pepper, Early Jalepeno
Pepper, Golden California Wonder
Pepper, Jimmy Nardello
Pepper, NuMex Joe E. Parker
Pepper, Red Cherry
Pepper, Thai Hot
Rhubarb
Romaine Lettuce, Jericho
Tomatillo
Tomato, Amish Paste
Tomato, Aosta Valley
Tomato, Black Krim
Tomato, Cherokee Purple
Tomato, Cosmonaut Volkov
Tomato, Dr. Carolyn
Tomato, Green Zebra
Tomato, Matts Wild
Tomato, Pink Brandywine
Tomato, Speckled Roman
Tomato, Sungold
Tomato, Supersweet 100's
Tomato, Yellow Perfection
Summer 2017 Plant Dye Workshops
We are very excited to announce our summer classes!
Save the dates, more info will be coming soon...

July 15 & 16, 2017
Eco-Printing with Amelia Poole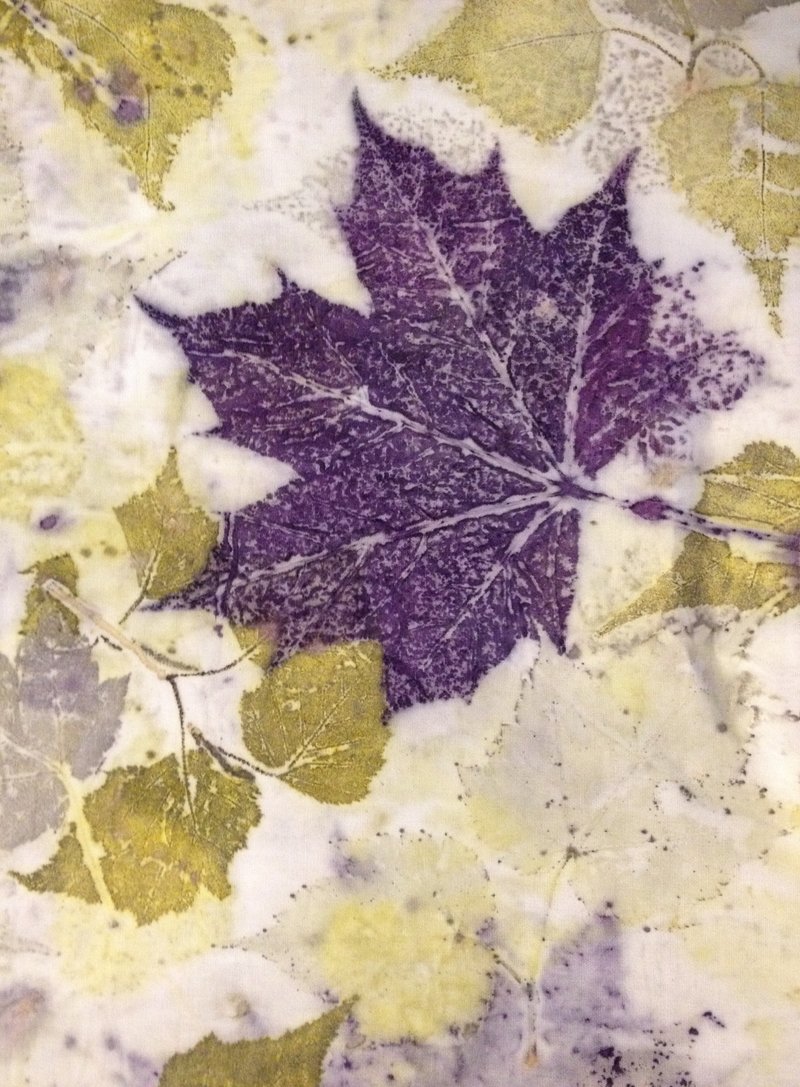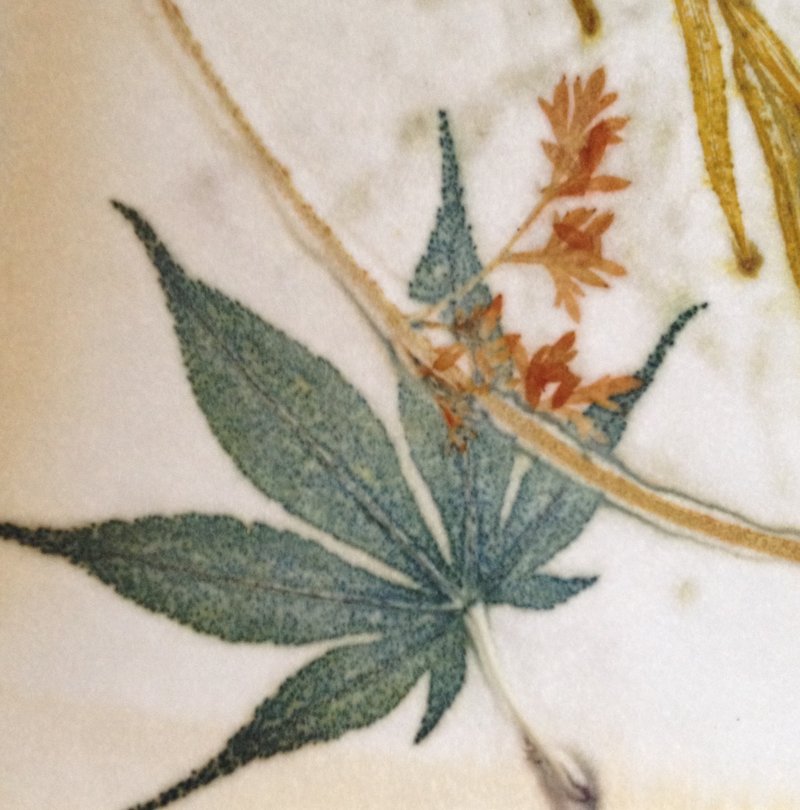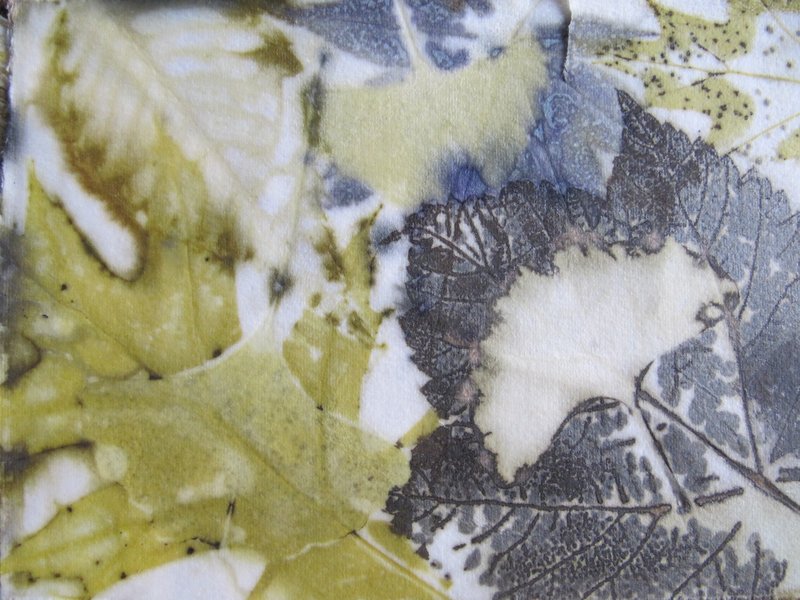 Here in New England, we are surrounded by nature and textiles. Why not combine the two? Eco-printed cloth is created by layering prepared cloth or paper with local plants and flowers. The materials and leaves are bundled together, tightly bound and steamed. This process creates a permanent transfer of pigment from the leaves to the fiber. No external dyes, inks or paints are used in eco-printing. All color and pattern come from the plants themselves! This process releases extraordinary secrets from local plants we see every day and often take for granted. Eco-printing allows us to look beyond the usual green of leaves and to see their shape and architecture, and explore their chemistry.

Eco-printing techniques developed and popularized by India Flint of South Australia, focus on bioregionalism and the use of sustainable, organic and non-toxic materials. Eco prints can be used to create wearable or wall art, decorative pieces, such as pillows and wall hangings, and even quilts!
Natural, Sustainable, Beautiful!
Day 1: The class will focus on eco printing techniques – printing on a variety prepared cloth and paper, both simmering and steaming.
Day 2: We will use the samples from the previous day to inform printing of yardage for a garment or enough pieces for a small quilt or paper for a book or other project. Projects will not be finished during class – only the cloth or paper to do so.
Cost of 2 Day Class is $190. Camping is an option if traveling from far away or we can help you find local lodging. Contact Jennifer to register for class 802-276-3839 or jyotidhara@hotmail.com
Amelia Poole is coming from Maine to share her talents with us. Check out her website
http://www.ecouturetextilestudio.com

July 30, 2017
Wear Your Medicine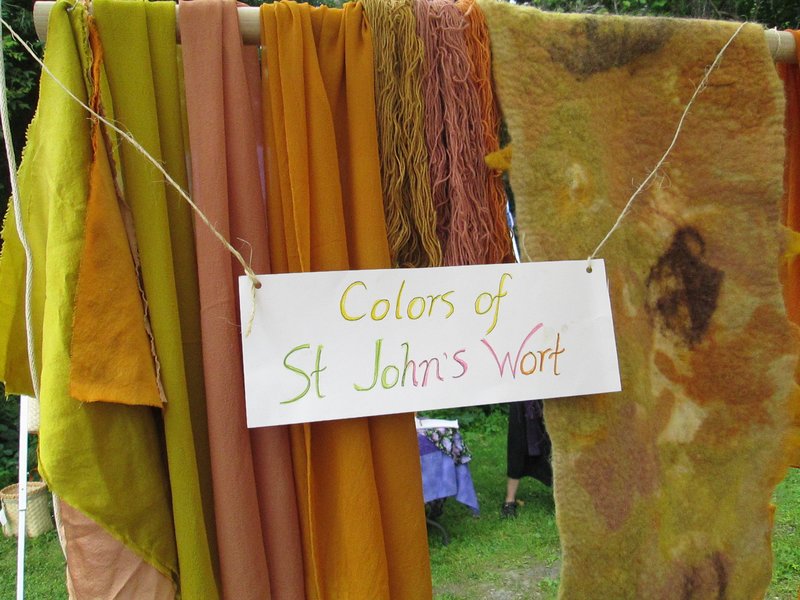 Learn about natural dyeing with medicinal plants and connect with the healing spirit of plants, learn what it means to wear your medicine. Students will learn about dyeing with wool and silk and learn how to cultivate, process, and use medicinal plants for natural dye. Each student will get to take home a plant dyed silk scarf dyed in the plant color of their choice. Cost of this class is $95 and includes all materials. Taught by Jennifer Johnson and Joann Darling.
Contact Jennifer to register 802-276-3839 or jyotidhara@hotmail.com
August 19 & 20, 2017
Harvest a Rainbow of Color


Learn about natural dyeing as we create a rainbow of color using all local plants and connect with the healing spirit of the plants. Students will learn how to cultivate, process, and use plants for natural dye and will receive a color sample book which includes recipes, instructions, and colored yarn samples for all dyes in the class. Cost of this 2 day class is $135 and includes all materials. Taught by Jennifer Johnson and Joann Darling.
Contact Jennifer to register 802-276-3839 or jyotidhara@hotmail.com

September 10, 2017
The Art of Mushroom Dyes
Taught by Joann Darling.
The fascination with using mushrooms as a natural dye is both challenging and rewarding. The colors you can obtain range from brown, gold, orange to reds and purples. Come Join me for a day of exploration, experimentation and excitation!
Students will learn how to forage, harvest, and use mushrooms for natural dye and will receive a color sample book which includes
recipes, instructions, and colored yarn samples
for all dyes in the class.
Contact Jennifer to register 802-276-3839 or jyotidhara@hotmail.com

*****************************************************************************
Classes from 2016: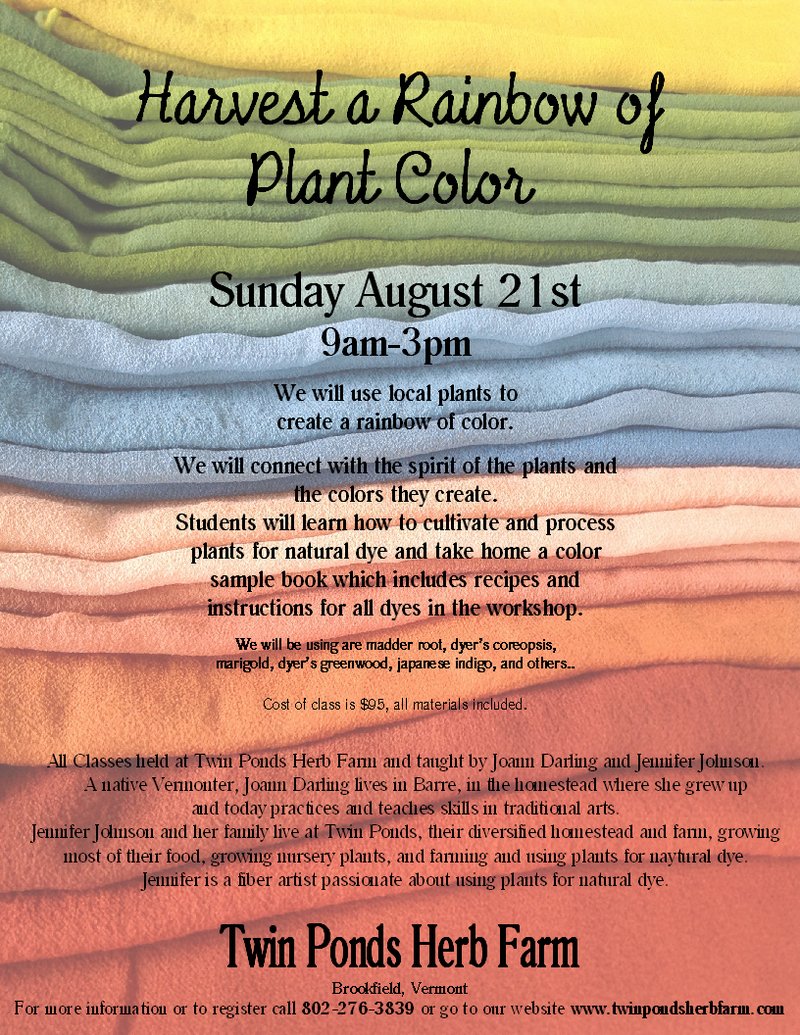 ---